Index
Midwest Poolplayers Association
The Midwest Poolplayers Association (MPA) is a Minnesota Non-Profit Corporation established to promote the sport of amateur pool by sanctioning pool leagues and players, and providing large tournaments to its membership. In its inaugural 2010-2011 pool season, the MPA has gained the support of many leagues and players throughout the midwestern region, sanctioning players and leagues in Minnesota, North Dakota, South Dakota, Iowa, Wisconsin, and South Central Canada.
Contact John Stich
Phone: 507-210-7558
---
Goals for the new MPA Pool web Site
The number one purpose of this web site is to advertise and promote MPA sponsored pool tournaments and its supporting vendors.
Online Sanctioning and Tournament registration.
Online player lists with their rating and position within their division for MPA events.
Complete Online Tournament results, with position of each player in the tournament. More general venue pictures along with the top people in each event.
Supported Web Browsers
One thing I am not going to do is try to make this site work with all the known browsers in the universe, so if you are still using FireFox 3 or IE6 do NOT expect the registration pages to work, at all! You need to upgrade.
I test primarily with FireFox 7.x and IE9, any browser that supports html 5.0 should work fine. I suggest any of the following:
Microsoft IE 9 or Above
FireFox 7
Google Chrome 14
Safari 5.1
Opera 11.5
These browsers are all free, so if you are using an old version please upgrade.
---
How to recover your password
The typical user of this web site will be a pool player that is a member of the MPA, whose userid is their player number. There are other users, such as vendors and league operators that have created user accounts on this server but are not players. In either case the user accounts are maintain the same way. When you created your account, either via the sites login page, or via the registration link sent to you in a email. You needed to create both a password and a security question.
The security question allows the user, you, to change their password by knowing the answer to the security question. This is great in that you don't have to bother the system guy, me, to reset your password. So, click on the following link if you can not remember your password, and answer the security question and you will be EMailed a temporary password that you can change. So if you didn't give us a valid EMail address when you signed up OR you will never have an email address, contact us and we can set one up for you.
Recover my password.
---
Handicap determination rules.
Here is the criteria for the divisions, and maybe this will help:
C Division - Novice pool players. These players take a minimum of 2-3 turns at the table to pocket the 8-ball. The players in this division do NOT run racks. During a whole league season they may have none or a max of one ERO or Break & Run. This division includes the Open Women shooters and guys who are on the lowest level of league play. People who register for this division and run more than a rack are subject to disqualification.
B Division - Pool players who are just figuring it out. Cue ball control isn't quite right, but they can pocket balls well and on occasion will run a rack. During a whole league season they may run up to 3 racks or so. People in this division may run out after their opponent has pocket the majority of their balls, leaving a fairly easy table for them. This division includes some low master women and players who are in the middle of the pack in their league.
A Division - These players control their cue ball much better and can run a rack maybe one out of ten times when they're at the table. They have good ball pocketing skills and an ability to maneuver the cue ball to their next shot, but sometimes don't execute what they intend to do. This division includes some of the higher master women and the players who are on top of their league.
AA Division - Much like the A division players, but more consistent and they manage to run out more often. Usually they're the dominant ones in their league.
Master Division - This division is for the AA players who have accomplished Master status by finishing in the top 5% of their state or national tournament in the Open divisions. They run out regularly and rarely take more than one turn at the table before the game is over.
---
Online Registration Guide
Online registration starts from the MPA Pool home page. Each tournament that is being sponsored by the MPA is displayed on this sites home page.
If the event is offering online reservation then there will be links for each division that will accept online reservations. For Exampe:

From this you can see that All the divisions in both the Singles and Team events offer online reservation.
You need to click on the division you wish to register for. If you click on the wrong division you will need to return to this home page and selected the correct division. You can NOT change divisions from the reservation page.
For example we will select the "C" division for the Black Bear tournament:

If you are not logged on, and most people are not, then the program needs to know who is registering. So you will need to select your name from the player list. You can do this by clicking on the row in the player table that contains your name.

When you click on the player the row will turn blue and the Player Registration information we be displayed in the form. If your name is not in the player list you will need to go to the MPA Online registration form to get your name in our database. Remember to start the registration over from the home page so your name can be included in the selection list.
After you have selected your name from the player list you should see Player Registration Information filled in. If you are NOT logged on then we do not display all the Address, phone and EMail address information for security reasons. That information would be available to everyone. If you log on then all available information will be displayed.
You will still need to submit your address, Phone and EMail in case we need to contact you regarding this reservation.

If your registration form contains any validations errors they will be displayed above the Player Information. This includes errors such has missing required fields and/or invalid email addresses. Fill in the requested fields and re-submit the form.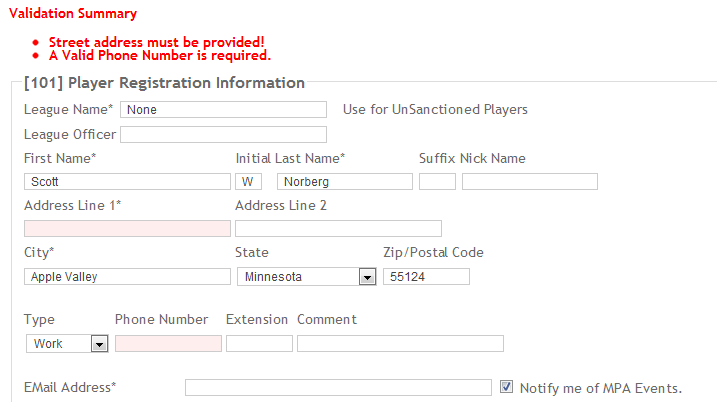 The registration summary lists the amount that will be due at checkin. This includes any sanction fee that may be owed.

In general the Registration results will show any system error that may have occurred.

When your registration was accepted you will be forwarded to the Tournament Receipt page.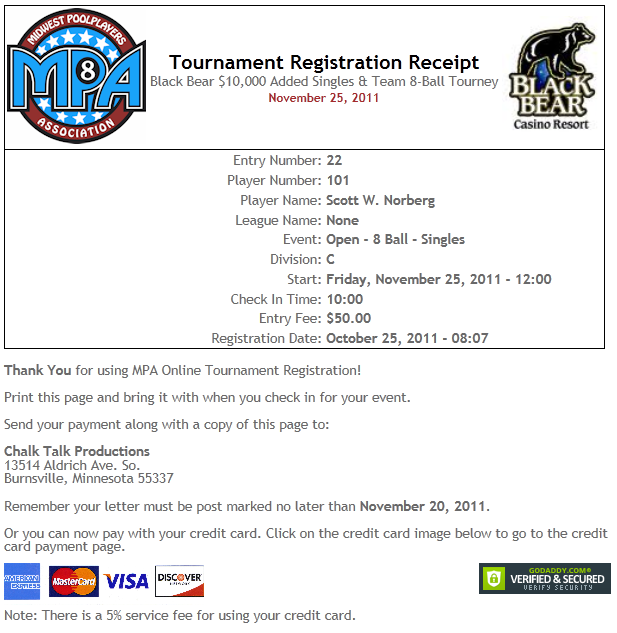 You have 3 payment options for most tournaments.
For normal weekend / Single day tournaments you need only to come to the tournament and pay at checkin time.
For larger / multiday tournaments there is a registration deadline. In this case make sure to pay prior to that date or there will be a late fee charged at checkin.
If the Credit Card image is present then we accept credit cards for this tournament. That image is also the link to the credit card payment page.
Hit Counter: 4189565